While as antique shops can be found throughout Cape Ann, Essex is by far the center of activity. In fact, the town is known as "America's Antique Capital". Essex has over 35 quality antique stores and restoration centers, most within a walking distance of each other. Essex is a collector's and dealer's paradise with furnishings, art, and accessories ranging from "early attic" to fine American and international antiquities. Shops are open every day throughout the year and are only 30 minutes from Boston.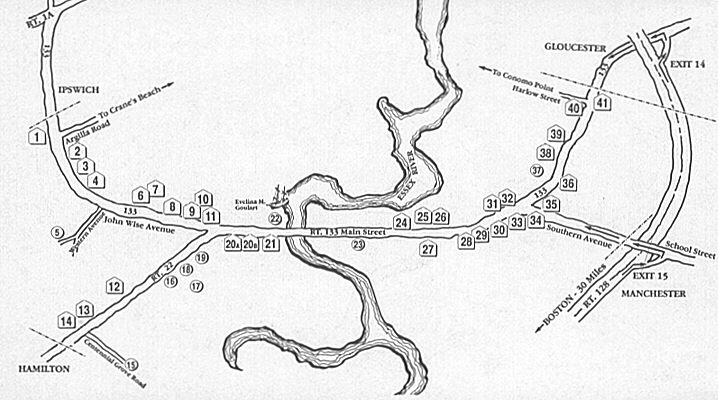 Antique Shops
11. Americana Antiques
2. Another White Elephant Shop
41. The Antique Outlet
14. Antiques & Elderly Things
20B. As Time Goes By Antiques
4. Auntie Lil's Antiques
34. Blackwood March Auctions
9. Gary Borkan Antiques
32. Brick House Antiques
27. A.F. Brosch Antiques & Restorations
7. V.W. Caravella Prints & Maps
8. Chebacco Antiques
33. Christian Molly Antiques
28. Robert C. Coviello Antiques
12. J.D. Cushing Antique Restoration
30. Emmons & Martin Antiques
39. Essex Antiques & Upholstery
3. Friendship Antiques
24. Howard's Flying Dragon
35. Joshua's Corner Antiques
31. Robert Landry Antiques
38. Lydia's Books & Antiques
9. Main Street Antiques
10. Gary Millow Restorations
29. Ellen Neily Antiques
28. North Hill Antiques
13. Pride's Crossing Upholstery
26. J.E. Rider Antiques
21. Riverside Glass & Antiques
1. Shea Brothers Upholstery
40. South Essex Antiques
32. Susan Stella Antiques
20A. Tradewinds Antiques
9-35. Vintage-Susan Gould-Coviello
36. Walker Creek Furniture
Points of Interest
15. Centennial Grove
37. Cox Reservation
5. Eagle's Nest Playground
18. Fire Station
17. Memorial Park
18. Police Station
19. Post Office
22. Public Landing
23. Shipbuilders' Monument
16. Town Hall
---
© 1995-2008 Cape-Ann.com. All rights reserved. Click here for linking & advertising inquiries.