Even if you cannot visit Cape Ann in person, we invite you to check out the following sampling of unique gift items which are offered by a variety of merchants on Cape Ann. Check back often, new items are added/replaced each month.

Bubbles Bath & Body Specialty Shop
We feature handmade shea butter soaps and all vegetable glycerin soaps by the slice, handmade soy candles and tarts, body lotions, sugar and salt scrubs, bath salts, bath bombs, tub teas, perfume oils, books, gift baskets, and many more bath and body treats to pamper yourself with! And let's not forget our cute and classic rubber duckies!

Brigger Furniture by Klein Design
A visit to Gloucester is not complete without a stop at Klein Design, makers of uniquely comfortable and stylish Brigger furniture. Our furniture features chairs, rockers, recliners, sofas and accessories that are "made to fit your body". Visit our showroom at 99 Sadler Street Extension and choose from a wide selection of fabrics, woods and sizes to make your perfect chair.

Good Dog! Gallery - Art and Gifts for Pet Lovers
Good Dog Gallery carries art and gifts for pet lovers, from dog paintings and prints, glass wall art, hand~hooked wool rugs and ceramics to cat and dog lamps, art T-shirts, aprons, cookies and cards. Come on in and sniff around! GOOD DOGS ALWAYS WELCOME!


Gloucester Photographs
For those intrigued with Gloucester, these photographs by Nubar Alexanian are an intimate exploration of her complexity and beauty, celebrating what it is that draws us to this place and why.
Price: $24.95 plus shipping


The Fresh Lobster Company
The Fresh Lobster Company specializes in providing distinctive corporate gifts, special occasion gift baskets and holiday gift baskets to family, friends and to that special important business client with all the extra's and flare.

Silly Goose Toy Store, Essex, MA
The Silly Goose Toy Store offers classic and traditional toys that stimulate the imagination and promote family interaction. At Silly Goose we search the world for cool, fun and unusual toys that make shopping with us a unique experience.
Telephone: 1-866-771-0282




Cape Pond Ice T-Shirt
Cape Pond Ice Company shirts and caps have been worn by generations of Gloucester Fishermen and ice company staff. The Warner Bros. move "The Perfect Storm" has popularized them into a unique collector's item. Available in all sizes.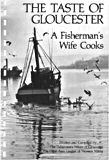 Gloucester Fishermen's Wives Cookbook
Learn how to cook fish like the pros! The Gloucester fishermen's wives have agreed to share their culinary secrets in this 100 page softbound cookbook. Written by the Fishermen's Wives of Gloucester.







Paintings by Fitz Hugh Lane
This beautiful 160 page softcover book is printed by National Gallery of Art and features the work of Gloucester's Fitz Hugh Lane -- perhaps America's best known 19th century maritime artist. By John Wilmerding.



Local merchants, have a unique product to add? Please email us.
---
© 1997~2003 InterMarketing LLC dba Cape-Ann.com. All rights reserved.